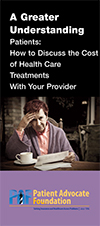 How to Discuss the Cost of Health Care
Patients and providers need to recognize the need to have simple open dialogue regarding costs for health care services.  This brochure provides practical suggestions and example questions for a variety of health care needs.
The inability to work can create personal financial hardship. There are many different programs that can work as financial safety nets if your diagnosis makes it difficult to maintain employment.