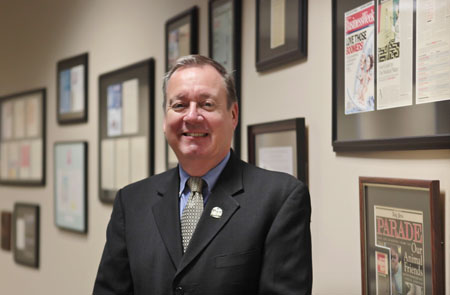 Alan Richardson joined PAF in January 2004 and currently serves as the Executive Vice President of Strategic Patient Solutions. He is responsible for working with internal and external stakeholders on case management-based solutions for patients experiencing access and affordability challenges. These include general case management services, MedCareLine, PAF's disease-specific case management programming and Financial Aid Funds. He is also the community lead for oncology, virology, and cardiology.
Alan represents PAF as a speaker, panelist, and attendee at numerous conferences and events. He is a graduate of Virginia Commonwealth University with a degree in Mass Communications. He has over two decades of development experience in the healthcare field, both in the free clinic and community health center look-alike settings. Alan worked as the Director of Development for the Fan Free Clinic in Richmond, VA., and as Director of Development for Olde Towne Medical Center in Williamsburg, VA. Prior to working in development, Alan was a graphic designer, creating direct mail, advertising materials and campaigns for various companies and clients.
Alan is very involved in his community. He is a past President of the West End Jaycees in Richmond, a past President of the Virginia Jaycees and the Virginia JCI Senate, and is a past National Vice President of the United States Junior Chamber of Commerce. He has served on the Virginia Jaycees Long Term Training Committee, the Corporate Planning Committee and on the Finance Committee. Alan has also trained leaders at the local, state, national and international levels. He has been recognized as a Life Member of the West End and Virginia Jaycees, a US Ambassador (life membership in the US Jaycees) and as a JCI Senator (life membership in the worldwide Jaycees). Alan has also been recognized as an Outstanding Young Man in American four times, Who's Who in American Advertising and in 1998 as an Outstanding Young Virginian by the Virginia Jaycees. He was recognized by Patient Advocate Foundation in December 2004 as Advocate of the Year.
Alan has served on the Board of Directors of Camp Virginia Jaycee, the American Red Cross-Colonial Virginia Chapter Board, the Williamsburg AIDS Network Board, The Eastern Virginia AIDS Network Board, and The Leadership Historic Triangle Board, a program that he participated in as a class member in 1999. Alan has been a Trustee of the Virginia Jaycee Foundation since 2002 and served as President 2008-2012.
Alan is a Hampton native and currently resides in Williamsburg.