PAF Announces Release of 2022 Annual Impact Report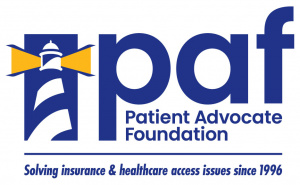 Patient Advocate Foundation Releases their 2022 Annual Impact Report 
… Finding Equity in a World of Obstacles
Hampton, VA (May 16, 2023) – Patient Advocate Foundation (PAF), a national non-profit organization which provides case management services and financial aid to patients with chronic, life-threatening, and debilitating illness, is pleased to announce the release of its 2022 Annual Impact Report (AIR), Finding Equity in a World of Obstacles.
The AIR explores the impact of PAF interventions on the lives of patients and their families, many of whom experience social or financial distress that results from challenges faced while seeking access to and trying to afford healthcare and basic household needs. It features extensive calendar year data and a comprehensive How We Help section with survey results focused on the Social Determinants of Health (SDOH), financial impact of chronic and complex conditions, and the erosion of publicly available safety net support systems. Highlights are included for PAF's case management, financial assistance services, health equity and education activities, with interactive opportunities to view patient videos and links directly to select resources.
The AIR acknowledges our generous supporters, without whom PAF's work would not be possible, and provides financial statements for fiscal year 2020/21.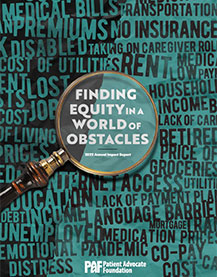 PAF's mission has always been rooted in a deep belief that socioeconomic disadvantages should not limit anyone's access to affordable, quality care, and that together we can and must address social and financial barriers that cause or exacerbate inequities in health outcomes. It is with that commitment in mind that we provided direct assistance in 2022 to more than 187,000 patients from all 50 states representing 1,049 distinct diagnoses through 53 patient support programs.
"Not everyone, everywhere has the same access to healthcare services, or to necessary safety net and social supports. This knowledge prompted the expansion of our efforts in 2022 to ensure that communities with the highest levels of chronic disease but the lowest levels of the resources needed to access healthcare are equipped to find critical support that might be available outside their community. I find the release of this Annual Impact Report particularly critical as collaborative, responsive approaches to the delivery of direct help and meaningful navigation services to patients has never been more evident or more needed," PAF CEO Alan Balch said.
PAF was founded in 1996 by Nancy Davenport-Ennis and co-founded by John H. (Jack) Ennis to help address the issues faced by patients like their friend Cheryl Grimmel, who had to battle not only her breast cancer but for access to affordable treatments. In PAF's first year, Nancy and a part-time volunteer staff of 2 provided case management assistance to 157 patients who faced barriers to prescribed care. Fast forward to 2022, and we've helped a cumulative total of more than 1.8 million patients nationwide with support provided by more than 200 staff.
To view or download a copy of the 2022 Annual Impact Report visit: https://www.patientadvocate.org/download-view/2022-annual-impact-report/