Celebrating our 20th year in 2016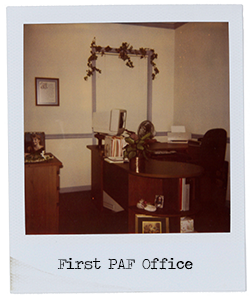 In PAF's first year of operation working from a small 10 ft. by 10 ft. office, Founder Nancy Davenport-Ennis and a part-time, volunteer staff of two provided case management assistance to 157 patients faced with barriers accessing their prescribed care. Fast-forward to 2017, and PAF helped a cumulative total of more than 1 million patients located throughout all 50 states with support provided by a staff of nearly 200 professionals. Consistent throughout its 20-year history, the mission of PAF is to help one patient at a time by providing highly skilled case management service or financial aid to resolve problems related to their ability to access care and overcome financial hurdles during the most vulnerable times of illness. NPAF was created as a sister organization to expand the scale of PAF's impact to millions by advocating for solutions to common patient problems surrounding healthcare access and affordability. Over its long history, NPAF influenced major health policy decisions, helping to establish a ban on lifetime benefit limits and pre-existing condition exclusions in the Patient Protection and Affordable Care Act and has been heavily engaged in trying to pass the Medical Debt Relief Act.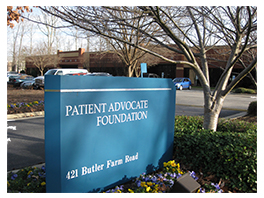 Today, CEO Alan Balch leads the effort to celebrate PAF and NPAF's twenty years of service by documenting important milestones in our history while focusing on the key initiatives that will define the next twenty years of the organizations.
PAF Milestones
2016
April 2016 marks 20 years of serving patients
Hosts 15th Annual Promise of Hope Affair event & 16th annual Patient Congress Event
Completed nearly 81,000 patient cases totaling over 820,000 closed cases since inception PAF's annual budget exceeds $75 million
2014
PAF's Co-Pay Relief celebrates 10 years of operations, having assisted over 126,000 patients, allocating over $200 million in assistance
2013
Awarded first Case in Point Platinum Awards for Case Management
Founder, Nancy Davenport-Ennis celebrates her retirement after more than 17 years of dedicated service to PAF
2010
First year PAF earned Charity Navigator's 4-star "exceptional" rating
PAF moves to new, larger headquarters location in Hampton, VA
2006
PAF launches first program within its Financial Aid Fund Division PAF launches first program within its MedCare Line Division
Milestones
(cont.)
2004
PAF launches the Co-Pay Relief Program
2001
PAF holds first annual Promise of Hope fundraising gala event
2000
PAF gains national attention for patient services
First Patient Congress advocacy event in Washington DC
1999
National Financial Resource Guide, first edition published
1998
Relocated to new office space in the Newport News, VA with four full-time employees
1997
PAF publishes its first full-length patient-focused publication
Launch of public website www.patientadvocate.org
1996
Opened in April 1996
During our first year, volunteer case managers assisted 157 patients in a 10 x 10-foot warehouse space office
By the end of the year, PAF had fundraised just over $100K in organizational revenue to operate