PAF Earns a 10th Consecutive 4-Star Rating from Charity Navigator
 Acknowledged for a Decade of Excellence 
Patient Advocate Foundation (PAF), a national nonprofit providing case management services, education, and financial aid to patients and caregivers impacted by chronic and life-threatening diseases, celebrates a decade of excellence by earning a 4-star rating from Charity Navigator for the 10th year in a row.  This is the highest rating awarded by America's largest independent charity evaluator to recognize strong financial health and a commitment to accountability and transparency.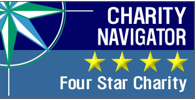 "Only 2% of charities we evaluate have received at least ten consecutive 4-star evaluations, adding Patient Advocate Foundation to a preeminent group of charities who are set apart from their peers, outperforming most other charities in America and consistently demonstrating  public trustworthiness," according to Michael Thatcher, President & CEO of Charity Navigator. "Based on its record of 4-star ratings, people can trust that their donations are going to a financially responsible and ethical charity when they decide to support PAF."
"This recognition is especially meaningful as it signifies PAF's adherence to best practices for fiscal stewardship while executing our mission in a financially efficient way," PAF CEO Alan Balch, PhD says. "It is only though the generous support of our donors that PAF is able to provide compassionate, effective interventions that address access and affordability issues experienced by low income patients," Balch concludes.
Since 2002, using objective analysis, Charity Navigator has awarded only the most fiscally responsible organizations a 4-star rating. In 2011, Charity Navigator added 17 metrics to its ratings methodology that focused on governance and ethical practices as well as measures of openness. These Accountability & Transparency metrics, account for 50 percent of a charity's overall rating and reveal which charities operate in accordance with industry best practices. On June 1, 2016, the methodology for rating each charity's' financial health was upgraded with CN 2.1. These enhancements further substantiate the financial health of four-star charities.
###
About Charity Navigator: Charity Navigator, www.charitynavigator.org, is the largest charity evaluator in America and its website attracts more visitors than all other charity rating groups combined. The organization helps guide intelligent giving by evaluating the Financial Health and Accountability & Transparency of more than 8,000 charities. Charity Navigator accepts no advertising or donations from the organizations it evaluates, ensuring unbiased evaluations, nor does it charge the public for this trusted data. As a result, Charity Navigator, a 501 (c) (3) public charity itself, depends on support from individuals, corporations and foundations that believe it provides a much-needed service to America's charitable givers. Charity Navigator can be reached directly by telephone at (201) 818-1288, or by mail at 139 Harristown Road, Suite 101, Glen Rock, N.J., 07452.