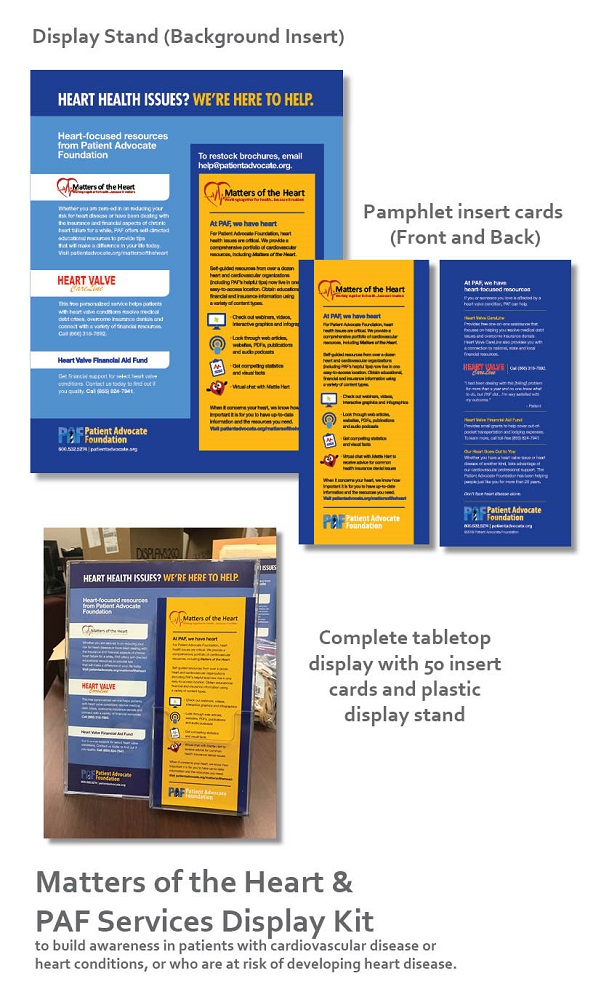 Matters of the Heart & PAF Services Display Kit- Kit Overview
Designed for provider waiting rooms, pharmacy checkout counters, community centers and health-focused public areas, each display kit comes with one hard tabletop display stand and 100 pamphlets that provide an overview of the various services and resources available for patients with heart-related conditions or working to prevent heart disease.  You can reorder additional pamphlets to ensure your supply does not run out.
This resource is provided free of charge to healthcare providers, community groups, nonprofit organizations, faith-based groups or businesses who want to share information about PAF's services to their audience.
Includes information about Matters of the Heart, Heart Valve CareLine, Heart Valve Financial Aid Fund, and PAF's core services for those diagnosed with a cardiovascular disease or disorder.
Patient Advocate Foundation programs and services will remain fully operational. In response to the evolving impact of COVID-19 on the nation and our community, Patient Advocate Foundation (PAF) established key priorities to guide our response…