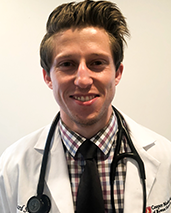 Having been recruited to play baseball at Rowan University in 2010, Richie Suarez was looking forward to a new phase in his life and beginning his preparations to become a mathematics teacher. Those plans were put on hold two days before he was to begin his freshman year, as he was diagnosed with cancer. Instead of moving into to his freshman dorm, Richie moved into Children's Hospital of Philadelphia. He then prepared for the battle of his life; ultimately resulting in three and a half years of treatment.
In 2011, Richie began experiencing pain in his legs and was diagnosed with avascular necrosis (a side effect from treatment) and was told that he was in need of knee and hip surgery to slow the progression of bone loss. It was during this time that Richie was told by doctors and coaches that his dreams of playing college baseball were likely out of reach.
In 2012, Richie returned to Rowan University and began his college experience. Given his diagnosis and experience with Pediatric Cancer, Richie decided to focus his efforts on a degree in Biology so he could focus on making advances in therapy to cure cancer and the side effects from treatment. After finishing his first year of college, Richie had the recommended surgery on his knees and hip and was told that he would have to undergo another surgery; a bilateral hip replacement. The hip surgery was scheduled for the end of the year and Richie began months of rehab, while still maintaining his studies.
Richie will graduate in the Spring with a 3.815 GPA. He also took his MCAT last summer, applied and has been accepted into medical school.
"PAF gave me an unbelievable scholarship, but it is the financial burden that this scholarship lifted and what PAF brought with that scholarship that catapulted me forward. They brought a family, people who cared about me as a person and wanted to know how I was doing. They took away the stress that would have hindered my memory on my organic chemistry finals, the stress that would have hindered my recovery from my surgeries, and the stress that would have kept me from staying positive throughout it all. PAF played a bigger part in all of that then I think they will ever know."